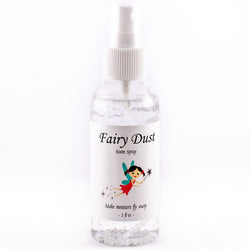 LA PAREA WELLNESS
Fairy Dust Room Spray
Description: If your little one can't go to sleep because of monsters coming out, our lovely fairy and her magical dust will help you and your kid to combat them.
Keep Bedtime Monsters Away for Restful Sleep
You only have to spray it once or twice and ta-da! Monsters from under the bed, closet, and dresser will be scared away. 
Ingredients: Lavender essential oil, Rose essential oil, Witch hazel, Distilled water
Size: 2 Oz.
Use: Apply the mist on your little one's pillow, bed and room. 
*The Fairy Dust Monster includes a small instruction card in case you need it in order to fight monsters.